Reynolds Advisory Partners acts as exclusive financial Advisor to Fine Tec on its sale to Exclusive Group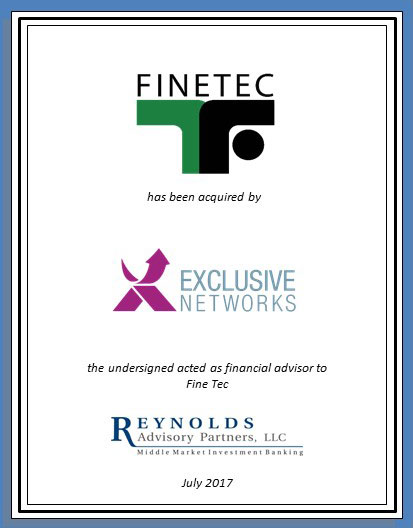 (PRLEAP.COM) LOS ANGELES, California, July 13, 2017 — Reynolds Advisory Partners, LLC ("RAP" or "Reynolds") acted as the exclusive financial advisor to Fine Tec, the leading Silicon Valley-headquartered cybersecurity value-added distributor (VAD), with publicly disclosed annual revenue of $230 million, on its sale to Exclusive Group. Financial terms of the transaction were not disclosed. The transaction was publicly announced on July 6, 2017 by Exclusive Group.
"Reynolds Advisory Partners delivered an outstanding result for Fine Tec and its stakeholders," said Doug Reynolds, Founder and Managing Director of RAP. "This transaction is representative of our firm's ability to assist successful and growing private companies like Fine Tec in maximizing value through synergistic transactions with suitable strategic acquirers like Exclusive Group."
James Shen, the Founder and President of Fine Tec, commented as follows: "From beginning to end, Brian MacLeod [of Reynolds Advisory Partners] provided expert advice and leadership in managing the M&A process and executing the transaction, including addressing the various issues that arose along the way. I am grateful to have had Brian's experienced and dedicated assistance, which was essential to achieving a successful result in the transaction."
Brian MacLeod, Managing Director at RAP, stated: "It was a privilege to work with James Shen and the Fine Tec team, who have built a strategically important VAD, specializing in network security and data integrity products and solutions. The transaction with Exclusive Group creates an exciting path to continued future growth for both Exclusive Group and Fine Tec, by creating a globally strong provider of value-added services and technologies. We are very happy to have assisted Fine Tec in achieving this favorable result."
Mr. MacLeod added: "Our firm's broad industry expertise includes, in the technology sector, substantial experience in assisting value-added solution providers, distributors, resellers, and IT services providers, which experience was helpful in achieving a successful outcome in the transaction."
About Fine Tec
Starting as a value-added distributor (VAD) in the year 2000, Fine Tec has become the heart of an ecosystem comprised of leading and emerging technology vendors who provide network-security and data-integrity solutions for its broad network of resellers across North America. Fine Tec has done this by maximizing sales opportunities for our partners while removing the hurdles that impede business transactions from before the sale to after the deployment.
About Exclusive Group
Exclusive Group (www.exclusive-group.com) is the value-added services and technologies (VAST) group accelerating the growth of disruptive and innovative technologies around the world. Exclusive Group's people are committed to the high-growth imperatives of ambitious IT vendors and fueled by a strong culture of ambition, entrepreneurialism and sustainable growth.
With 50+ offices across five continents and presence in over 100 countries, Exclusive Group brings together all of the essential elements of a proven winning strategy for market entry and growth. Redefining value and enabling new market opportunities through "Disruptive Distribution" are at the heart of Exclusive Group's proposition, through, its cybersecurity brand, Exclusive Networks, and datacenter transformation division, BigTec. These companies are complemented by the extensive and innovative capabilities of PASSport Global Services, and the comprehensive, integrated commercial leasing offerings delivered by Exclusive Capital.
About Reynolds Advisory Partners, LLC
Reynolds Advisory Partners, LLC is a boutique investment bank with a focus on the "middle market". RAP provides a full suite of financial advisory services for mid-size and growing companies, including mergers, acquisitions, divestitures, restructurings, and the issuance of debt and equity capital. RAP's professionals also have extensive experience in advising Independent/Special Committees of both public and private companies, of all sizes, in facing complex issues, including evaluating related party transactions.
For more information, visit www.reynoldsap.com.
Reynolds Advisory Partners, LLC - Investment Banking Contacts:
Douglas E. Reynolds, Managing Director: dreynolds@reynoldsap.com. 626-316-6090
Brian MacLeod, Managing Director: bmacleod@reynoldsap.com. 626-316-6092
Source: Reynolds Advisory Partners, LLC
CONTACT INFORMATION
Brian MacLeod
Reynolds Advisory Partners