Reynolds Advisory Partners acts as Exclusive Financial Advisor to Afinety, Inc. on its Sale to Netgain Technology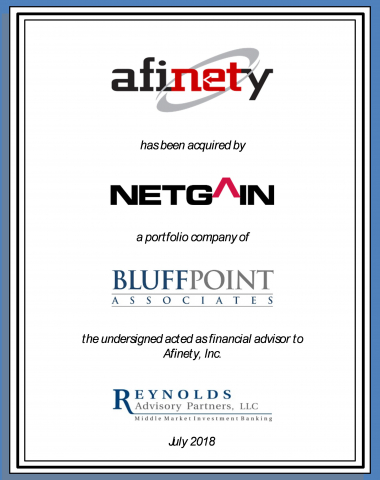 LOS ANGELES, August 2, 2018 — Reynolds Advisory Partners, LLC ("RAP" or "Reynolds") acted as the exclusive financial advisor to Afinety, Inc. ("Afinety") of Los Angeles (Encino), California on its sale to Netgain Technology LLC ("Netgain") of St. Cloud, Minnesota. The parties publicly announced the transaction on August 2, 2018. Financial terms were not disclosed.
Afinety, Inc., a leading provider of cloud services and IT resources to law firms was recently acquired by Netgain Technology, LLC. Netgain, a leading provider of secure and specialized cloud services to highly regulated industries, continues its aggressive nationwide expansion with the acquisition of Afinety.
Founded in 1986, Afinety combined high-performance cloud solutions with superior customer service to build a strong and loyal client roster. The Afinety Cloud Platform ("ACP") is a rapidly growing, market-leading service that gives law firms cloud-based IT scalability, performance and security.
"Netgain is a great partner for us, we couldn't be more excited to join the team," said Doug Hafford, CEO of Afinety. "Netgain is dedicated to delivering high-performance, secure, cloud services to specialty vertical markets. Additionally, Netgain thrives on providing superior support to clients, so there was no question they were the right partners to help fuel our expansion in the legal services IT space."
Afinety will leverage this transaction to extend market reach and penetration with legal practices nationwide while expanding product and service offerings for Afinety's existing clientele.
"Afinety eliminates IT concerns for the legal practices it serves. The ACP service just works," said Kevin Lynch, CEO at Netgain. "Afinety perfectly fit our strategy to offer purpose driven cloud services to compliance driven vertical industries in healthcare, financial services and now legal."
Afinety will continue to operate out of the existing offices in Encino, California and Pittsburgh, Pennsylvania.
This acquisition comes shortly after the recent acquisition by Netgain of iManaged Solutions, a cloud services provider in the optometry sector. Netgain continues to seek acquisition opportunities in IT-as-a-Service (ITaaS) companies specializing in serving healthcare, RIA, CPA and legal industry verticals.
Netgain's strategy is supported by Bluff Point Associates, a private equity firm focused on growth-stage investing in the healthcare and financial services IT space. This transaction represents the third opportunity on which Netgain's management and Bluff Point have collaborated in the past two years.
The financial terms of the acquisition were undisclosed.
About Netgain Technology, LLC
Netgain Technology, LLC, a secure and specialized cloud services and technology provider, was founded in 2000 and serves highly regulated mid-market organizations, nationwide. Netgain provides highly specialized services and solutions that simplify the cloud and take the pain out of IT so highly regulated organizations can worry less about the security and reliability of their IT and return their focus to growing their practices and firms. For more information, visit https://netg
About Afinety, Inc.
Since 1986, Afinety has been providing full range of IT services for small and medium size businesses. Specializing in law firms, Afinety services include cloud and on-premise networks, consultation, design, implementation, monitoring, system security, disaster recovery systems, training, macros and templates for law firms, anti-SPAM and virus screening, remote and onsite tech support and help desk services. Afinety's business model is simple: Provide the best IT support and services with tested solutions that simply work. For more information, visit https://afinety.com.
About Bluff Point Associates
Bluff Point Associates is a private equity firm based in Westport, Conn. Bluff Point actively invests in information services companies supporting the banking, trust, securities, retirement and wealth management sectors of the financial services industry, as well as the healthcare information services sector. Bluff Point's team collectively has decades of experience in recognizing a company's growth potential and working with its management to reach that potential. For more information, visit https://www.bluffpt.com
About Reynolds Advisory Partners, LLC
Reynolds Advisory Partners, LLC ("RAP") is a boutique investment bank with a focus on the "middle market". RAP provides a full suite of financial advisory services for mid-size and growing companies, including mergers, acquisitions, divestitures, restructurings, and the issuance of debt and equity capital. RAP's professionals also have extensive experience advising Independent Committees and Special Committees of the Boards of Directors of both public and private companies, of all sizes, in facing complex issues, including evaluating related party transactions. In those situations, RAP is able to provide unconflicted, expert advice and to assist the Committee in fulfilling its legal and fiduciary obligations. RAP provides its services nationally in the United States, through its offices in Los Angeles and San Francisco, California.
For more information, visit www.reynoldsap.com
Reynolds Advisory Partners, LLC - Investment Banking Contact:
Doug Reynolds, Senior Managing Director: dreynolds@reynoldsap.com 626-316-6090