Reynolds Advisory Partners acts as Exclusive Financial Advisor to Jada Toys, Inc. on its Sale to Simba Dickie Group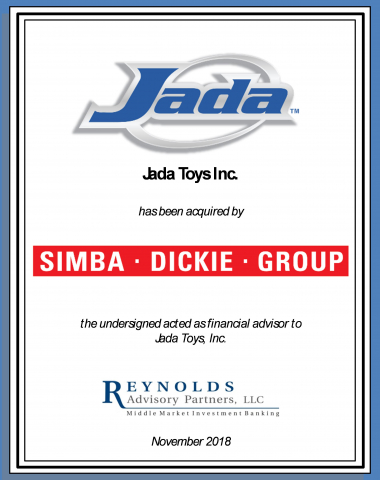 LOS ANGELES, February 4, 2019 — Reynolds Advisory Partners, LLC ("RAP" or "Reynolds") acted as the exclusive financial advisor to Jada Toys, Inc. ("Jada Toys") of Los Angeles (City of Industry), California on its sale to Simba Dickie Group ("Simba Dickie") of Fürth, Bavaria, Germany. The parties publicly announced the transaction on January 29, 2019. Financial terms were not disclosed.
Jada Toys is a leading manufacturer of collectible diecast model cars and figurines, radio controlled vehicles, and other toys and collectibles, including under licensed brands with major media-entertainment content producers and under multiple Company-owned brands. Jada Toys was founded in 1999 by the husband-and-wife team of Jack and May Li, who continued to own the Company until the sale to Simba Dickie.
Simba Dickie is one of the ten largest toymakers in the world, with operations in over 30 countries and a majority of sales occurring outside of Germany. Simba Dickie produces a broad range of toys, including plastic toys and play furniture, plush animals, model railways, model cars, arts and crafts, and board games. Simba Dickie is privately owned by the Sieber family. The Company was founded in 1982 by Fritz Sieber and his son Michael Sieber. Today, the co-CEOs are Michael Sieber and his son Florian Sieber.
"We are delighted to have produced an outstanding result for the owners of Jada Toys," said Doug Reynolds, Founder and Managing Director of RAP. "This transaction is representative of our firm's ability to assist mid-sized private companies in maximizing their value through synergistic M&A transactions with large strategic acquirers like Simba Dickie."
May Li, the Co-Founder of Jada Toys, commented as follows: "We greatly appreciate the extraordinary efforts of Reynolds Advisory Partners, and in particular Brian MacLeod, who led the transaction for Reynolds. Brian and his team provided us with expert advice and assistance throughout the process and skillfully managed the transaction from beginning to end."
Brian MacLeod, Managing Director at Reynolds, stated: "Jada Toys had generated substantial growth momentum in recent years and its future prospects were (and are) exceptional. We were pleased to find a compatible M&A partner in Simba Dickie Group, which recognized the positive attributes and unique strategic value of Jada Toys. Among multiple acquisition proposals received, the transaction with Simba Dickie was best able to provide compelling value to Jada's owners and also create an attractive new home for Jada's employees. We are happy to have assisted Jada Toys in achieving this favorable result."
Mr. MacLeod added: "The M&A professionals at Reynolds have advised on investment banking transactions representing a total of over $60 billion of transaction value. Our diverse industry experience includes particular strengths in technology, business services, industrial products, and consumer (as exemplified by the Jada Toys transaction). This extensive experience helps us achieve optimal M&A outcomes for our clients, such as, in this case, Jada Toys."
About Jada Toys, Inc.
Founded in 1999, Jada Toys, Inc. is a leading manufacturer of collectible diecast cars and figurines, radio controlled vehicles, and other boys and girls toys. Popular items produced by Jada Toys include diecast and radio controlled vehicles under the Fast & Furious™ film franchise brand, among other popular licensed branded products produced in partnership with major Hollywood studios and other media-entertainment and video game companies. Jada Toys also offers diecast vehicle collections under multiple Company-owned brand groups, such as Hollywood Rides™, Big Time Muscle™, Just Trucks™, and JDM Tuners™. Jada Toys continues to create innovative new products each year and to add new licensing partnerships with leading content creators. For more information about Jada Toys, visit www.jadatoysinc.com.
About Reynolds Advisory Partners, LLC
Reynolds Advisory Partners, LLC ("RAP") is a boutique investment bank with a focus on the "middle market". RAP provides a full suite of financial advisory services for mid-size and growing companies, including mergers, acquisitions, divestitures, restructurings, and the issuance of debt and equity capital. RAP's professionals also have extensive experience advising Independent Committees and Special Committees of the Boards of Directors of both public and private companies, of all sizes, in facing complex issues, including evaluating related party transactions. In those situations, RAP is able to provide unconflicted, expert advice and to assist the Committee in fulfilling its legal and fiduciary obligations. RAP provides its services nationally in the United States, through its offices in Los Angeles and San Francisco, California.
For more information, visit www.reynoldsap.com
Reynolds Advisory Partners, LLC - Investment Banking Contact:
Brian MacLeod, Senior Managing Director: bmacleod@reynoldsap.com 626-316-6092