Reynolds Advisory Partners acts as exclusive financial Advisor to TSI on its sale to Applied Software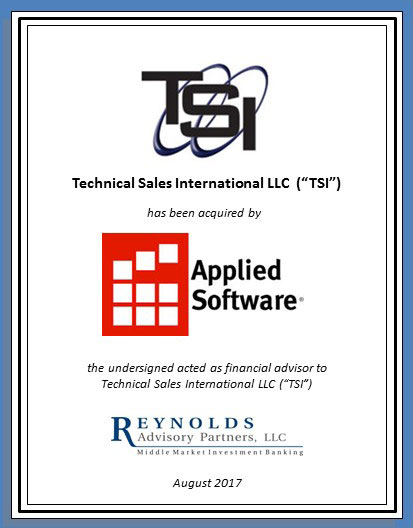 (PRLEAP.COM) LOS ANGELES, California, August 12, 2017 — Reynolds Advisory Partners, LLC ("RAP" or "Reynolds") acted as the exclusive financial advisor to Technical Sales International LLC (TSI), a leading provider of a wide range of innovative technology solutions and services for the construction industry, to Applied Software. TSI is headquartered in Sacramento (Rocklin), California, while Applied Software is headquartered in Atlanta, Georgia. The transaction closed on August 2, 2017. Financial terms were not disclosed.
Tammy Ford, the CEO of TSI, commented as follows: "We very much appreciated the expert assistance of Brian MacLeod [of Reynolds Advisory Partners], who provided us with dedicated assistance through to the successful result in our M&A process, including addressing the various issues that we encountered along the way (often in creative ways, to reach a positive outcome). Brian was an essential element in ensuring that the transaction was completed, while meeting our stakeholders' objectives for the transaction."
Brian MacLeod, Managing Director at RAP, stated: "We are pleased to have assisted TSI in achieving a successful result from this M&A process. The combination of TSI and Applied Software makes excellent strategic sense and will generate substantial synergies, by uniting two of America's leading solution providers for the construction, engineering, and manufacturing sectors, with both companies' having particular expertise in Autodesk® products."
Mr. MacLeod added: "The TSI transaction is representative of our firm's experience in providing M&A advisory services to technology providers in the AEC (architecture, engineering and construction) and BIM (building information modeling) software sectors, as well as providers of broader CAD/CAE/PLM technology solutions. We have extensive M&A advisory experience in these areas."
About Technical Sales International LLC (TSI)
Technical Sales International, LLC (TSI) is a leading provider of a wide range of innovative technology solutions and services for the construction industry that are designed to increase contractor productivity, consistency, and profitability. Technical Sales International (TSI) is an Autodesk® Gold Partner and offers sales, consulting, training, data, and support services for the Autodesk® Fabrication software products.
About Applied Software Technology, Inc.
Applied Software is a premier, full-service systems integrator firm serving the AEC and manufacturing industries, as well as a leading Building Information Modeling (BIM) services provider. Applied Software provides delivery and support in North America for construction field solutions in partnership with Autodesk's leading resellers. Since 1982, the firm has helped more than 5,000 clients achieve high-performance and competitive advantage through its broad range of world-class solutions and services that extend to 2D and 3D design software, integration expertise, analysis, problem resolution, training and education, mentoring and more. Applied Software further distinguishes itself with the depth of real-world experience of its developers and service professionals. Over the years, the firm has received numerous industry recognitions, including being honored multiple times by Autodesk as a Platinum Club award winner. For more information on Applied Software's solutions and services, please visit www.asti.com.
Applied Software is a registered trademark of Applied Software Technology, Inc. Autodesk is a registered trademark and BIM 360 Docs is a trademark of Autodesk, Inc. and/or its subsidiaries and/or affiliates, in the USA and/or other countries.
About Reynolds Advisory Partners, LLC
Reynolds Advisory Partners, LLC is a boutique investment bank with a focus on the "middle market". RAP provides a full suite of financial advisory services for mid-size and growing companies, including mergers, acquisitions, divestitures, restructurings, and the issuance of debt and equity capital. RAP's professionals also have extensive experience in advising Independent/Special Committees of both public and private companies, of all sizes, in facing complex issues, including evaluating related party transactions.
For more information, visit www.reynoldsap.com.
Reynolds Advisory Partners, LLC - Investment Banking Contact:
Brian MacLeod, Managing Director: bmacleod@reynoldsap.com. 310-318-9674
Source: Reynolds Advisory Partners, LLC
CONTACT INFORMATION
Brian MacLeod
Reynolds Advisory Partners
310-318-9674