Reynolds Advisory Partners acts as Exclusive Financial Advisor to Parcel Pro on its Sale to UPS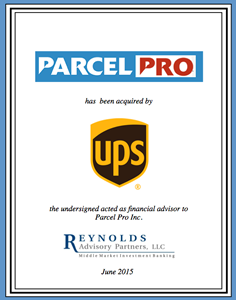 LOS ANGELES, June 15, 2015 — Reynolds Advisory Partners, LLC ("RAP" or "Reynolds") acted as the exclusive financial advisor to Parcel Pro Inc., the leading specialty logistics provider to the jewelry, luxury wristwatch and collectibles industries, on its sale to United Parcel Service, Inc. ("UPS") (NYSE: UPS). Financial terms were not disclosed. The transaction was publicly announced on June 15, 2015 by UPS.
Reynolds Advisory Partners delivered an outstanding result for Parcel Pro and its shareholders," said Doug Reynolds, Founder and Managing Director of RAP. "This transaction is representative of our firm's ability to assist private companies in maximizing value through synergistic transactions with large strategic acquirers like UPS."
Joseph Lam, the Founder and President of Parcel Pro, commented as follows: "We greatly appreciate the singular efforts of Reynolds Advisory Partners, and in particular Brian MacLeod, who led the transaction. Reynolds provided us with expert advice and assistance, and they were instrumental in helping Parcel Pro achieve its goals in the transaction and ensuring a successful result."
Brian MacLeod, Managing Director at RAP, stated: "Parcel Pro was at an inflection point in its development, and we were able to work with the Company in considering and pursuing multiple different alternative transactions. At the end of the day, the transaction with UPS was best able to provide compelling value to Parcel Pro's shareholders and create an exciting path to continued future growth in the business, as well as offering expanded opportunities for the Company's employees. We are very happy to have assisted Parcel Pro in achieving those favorable results."
Mr. MacLeod added: "Our firm's broad industry expertise includes substantial experience in business services, including logistics and transportation, among other areas, which experience was helpful in achieving a successful outcome in the transaction."
About Parcel Pro
Founded in 1997, Parcel Pro has become the leading provider worldwide of logistics and risk management services, including the arrangement of marine cargo insurance, in the Company's target markets, serving over 5,000 customers worldwide. The Company's head office is in Torrance, California (near Los Angeles International Airport), with additional offices in New York, Los Angeles, Miami, San Francisco, Hong Kong, Japan and Singapore.
About UPS
United Parcel Service, Inc. (UPS) is a leading package delivery company and a global leader in transportation, logistics, and financial services. UPS is headquartered in Atlanta, Georgia. The Company is publicly traded on the New York Stock Exchange, with an equity market capitalization of approximately $90 billion.
About Reynolds Advisory Partners, LLC
Founded in 2008, Reynolds Advisory Partners, LLC is a boutique investment bank with a focus on the "middle market". RAP provides a full suite of financial advisory services for mid-size and growing companies, including mergers, acquisitions, divestitures, restructurings, and the issuance of debt and equity capital. RAP's professionals also have extensive experience advising Independent/Special Committees of both public and private companies, of all sizes, in facing complex issues, including evaluating related party transactions; in those situations, RAP is able to provide unconflicted, expert advice and assist the Independent/Special Committee in fulfilling its legal and fiduciary obligations.
For more information, visit www.reynoldsap.com.
Reynolds Advisory Partners, LLC - Investment Banking Contacts:
Douglas E. Reynolds, Managing Director: dreynolds@reynoldsap.com. 626-316-6090
Brian MacLeod, Managing Director: bmacleod@reynoldsap.com. 626-316-6092
Source: Reynolds Advisory Partners, LLC