Reynolds Advisory Partners acts as Exclusive Financial Advisor to FibeRio on its Sale to CLARCOR Inc.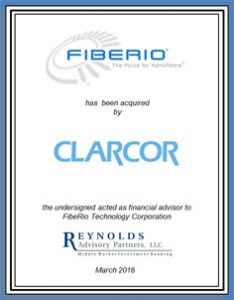 LOS ANGELES, April 4, 2016 — Reynolds Advisory Partners, LLC ("RAP" or "Reynolds") acted as the exclusive financial advisor to FibeRio Technology Corporation ("FibeRio"), the world's leading nanofiber solutions company, on its sale to CLARCOR Inc. ("CLARCOR") (NYSE: CLC). Financial terms were not disclosed.
"Reynolds Advisory Partners helped deliver an outstanding result for FibeRio and its shareholders," said Doug Reynolds, Founder, CEO and Managing Director of RAP, who led the transaction execution team. The project was originated at RAP by Doug Reynolds and Brian MacLeod, who heads Reynolds' technology advisory practice. Doug Reynolds added: "This transaction is representative of our firm's ability to assist growing and successful private companies in maximizing value through synergistic transactions with strategic acquirers like CLARCOR."
Ellery Buchanan, FibeRio's CEO, commented as follows: "We greatly appreciate the efforts of Reynolds Advisory Partners in achieving this very positive outcome for FibeRio and its shareholders. Reynolds skillfully advised and assisted us through a complex transaction process, deftly handling the myriad issues that emerged over the course of the process. We are delighted with the result and very appreciative of RAP's instrumental role in helping us getting us there."
Brian MacLeod, technology group head at RAP, said: "Reynolds has extensive technology industry deal experience, and nanotechnology has been an area of increasing interest for our firm. We were pleased to have the opportunity to assist FibeRio with this important transaction, which will provide liquidity to FibeRio's equity investors and serve to proliferate the Company's world-leading technology in filtration, apparel and other markets."
About FibeRio
FibeRio is based in McAllen, Texas and is the world's leading nanofiber solutions company. Leading companies in apparel, filtration, medical, electronic and other markets are differentiating their products using nanofiber technology because nanofibers achieve superior performance to other porous materials, offer competitive advantage by replacing commoditized materials, and enable new-to-world products. FibeRio enables market leaders to rapidly develop and commercialize nanofiber based products using proprietary award winning Forcespinning® technology. For more information visit www.fiberiotech.com
About CLARCOR
CLARCOR is based in Franklin, Tennessee and is a diversified marketer and manufacturer of mobile, industrial and environmental filtration products sold in domestic and international markets and highly specialized technical apparel sold into specialized performance oriented markets including sports apparel and footwear. Common shares of the Company are traded on the New York Stock Exchange under the symbol CLC. Further information on CLARCOR can be found at www.clarcor.com.
About Reynolds Advisory Partners, LLC
Reynolds Advisory Partners, LLC ("RAP") is a boutique investment bank offering a full suite of premier and unconflicted financial advisory services for mid-size and growing companies. Advisory services include mergers, acquisitions, divestitures, and restructurings, as well as debt and equity capital structuring and sourcing. RAP's professionals moreover have extensive experience providing unconflicted expert advice to Independent/Special Committees of both public and private companies, of all sizes, facing complex issues, including evaluating related party transactions and general adherence to legal and fiduciary obligations. For additional information on Reynolds Advisory Partners, visit www.reynoldsap.com
Reynolds Advisory Partners, LLC - Investment Banking Contacts:
Douglas E. Reynolds, Senior Managing Director: dreynolds@reynoldsap.com. 626-316-6090
Brian MacLeod, Senior Managing Director: bmacleod@reynoldsap.com. 626-316-6092
Carsten Lebeck, Managing Director: clebeck@reynoldsap.com. 626-316-6101
Source: Reynolds Advisory Partners, LLC